The Pylon Room is a room in
Ramuel's
battlecruiser
. It is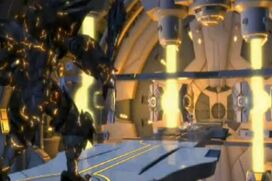 filled with pylons that make a melodic sound when one hits it.
After Caliburn shattered, Paddy took Paladin to the pylon room. It was then used by Paddy and Paladin to set a trap for the "invincible" demon Discord. After diverting Discord into the room, Paladin used his Star Blades, to hit the pylons and create a melodious song they shattered and disintegrated Discord.
Although all the other functions on the Awes were shut down, Paddy prevented the Pylon Room from being corrupted.
Community content is available under
CC-BY-SA
unless otherwise noted.