"I think we'll stick with the first deal." - Jaza to
Michael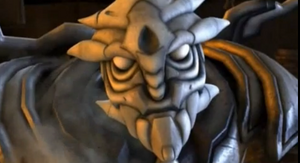 Jaza is a exiled angel who gave up his wings to The Dragon for the power of foresight and visions.
In Episode 3 Michael visits Jaza on the Isle of Sorrows to find out where Morg is hiding, and they strike a deal. Jaza will show where Morg is hiding, and Michael will fly him off. He almost tries to cut off Michael's wings to fly off himself, but Michael bumps him from behind, and his last words in his appearance is "I think we'll stick with the first deal."
Personality
Edit
Before Jaza fell, he wanted power which is why he was willing to trade his wings for powers. After he became blind he did all he can to get off the Isle of Sorrows.
Powers and Equipment
Edit
Jaza wielded a sharp knife. He had the power of foresight and visions. He probably had a different weapon as an angel, however.
It is unknown what happened to Jaza after he was flown off his Island.
Community content is available under
CC-BY-SA
unless otherwise noted.